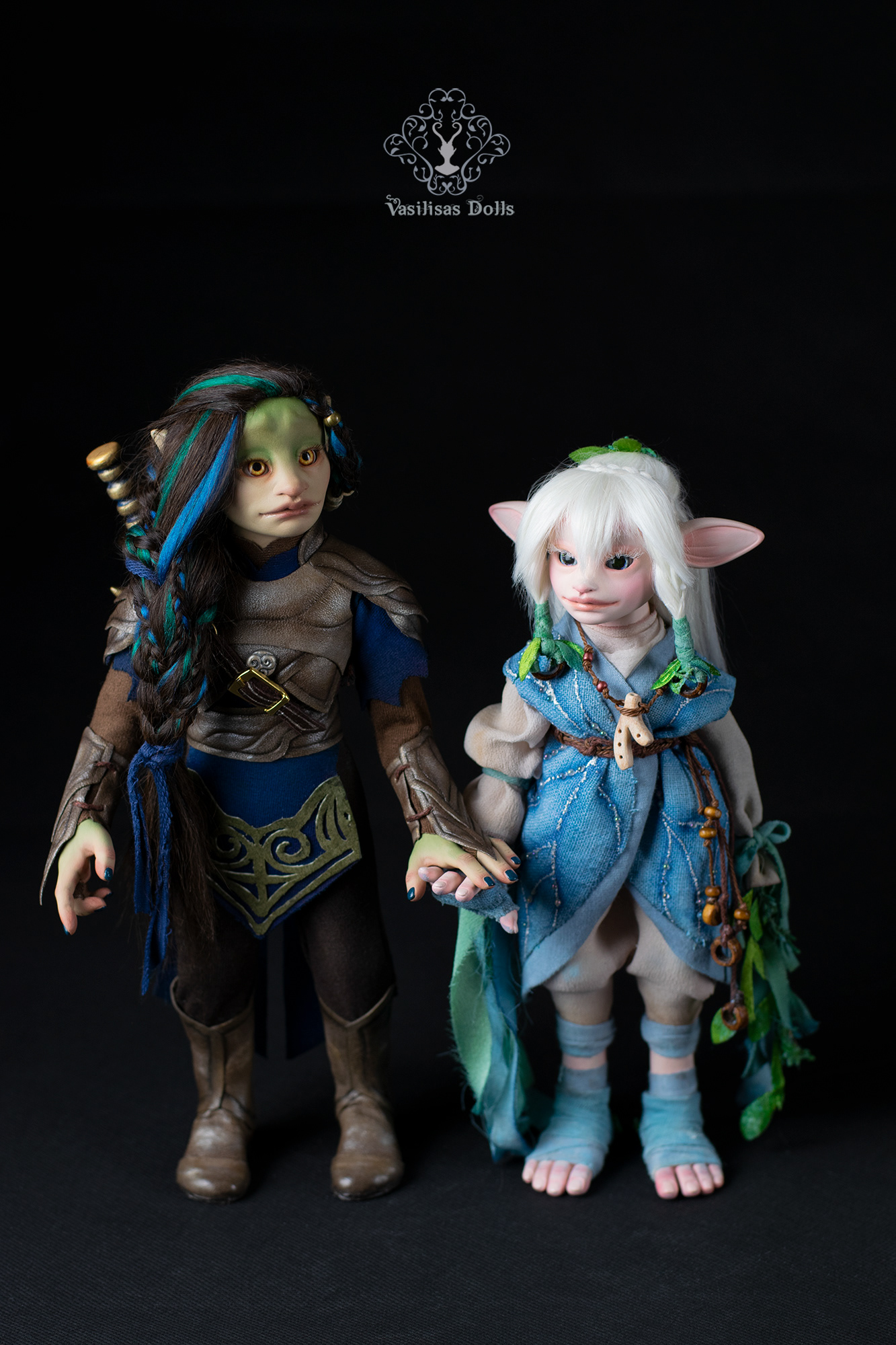 The Artdolls that appears in the photos are already 
SOLD
.
Description
Orus & Anya gelfling OC are pure OOAK posable ART DOLLS.
Designed by Alyssa Vaivao according to the world of Thra, and hand made in full by Leandra Blackvelvet, at Vasilisa's Dolls.
Alyssa wrote a back story for them, inspired in the world of The Dark Crystal, 
Age of Resistance!
👉 If you'd like to know more about her, please click on 
Anya
 to read her back story
👉If you'd like to know more about him, please click on 
Orus
 to read his back story
Sculpt:
I hand sculpted both heads, hands and feet in polymer clay. I hand paint each piece, with acrylics and pastels, covered with a varnish protection.
Body:
Both sculptures are fully posable and can adopt a wide range of poses due to its inner armature made with a strong wire and wood sticks.
Soft Body is made in stuffed batting covered with fabric.
They also has a posable head.
Dress and adornments:
The clothes are hand dyed, with hand painted details, sewn and glued and are not removable. Their outfits are entirely handmade from silk, cotton, gauze, viscose, linen, leather, adornments on outfit are painted with watercolors and acrylics.
Their hair is high quality alpaca doll hair, glued directly to the head and stylized with braids and tiny gems.
They have hand made eyes, their iris designed in Procreate, covered with UV resin, and eyelashes.
I hand sculpted the wings veins. I hand painted them with acrylics, I hand dyed the silk wing and glued the veins on them.
The wings are removable.
Original characters are made to order, send me an email for more info