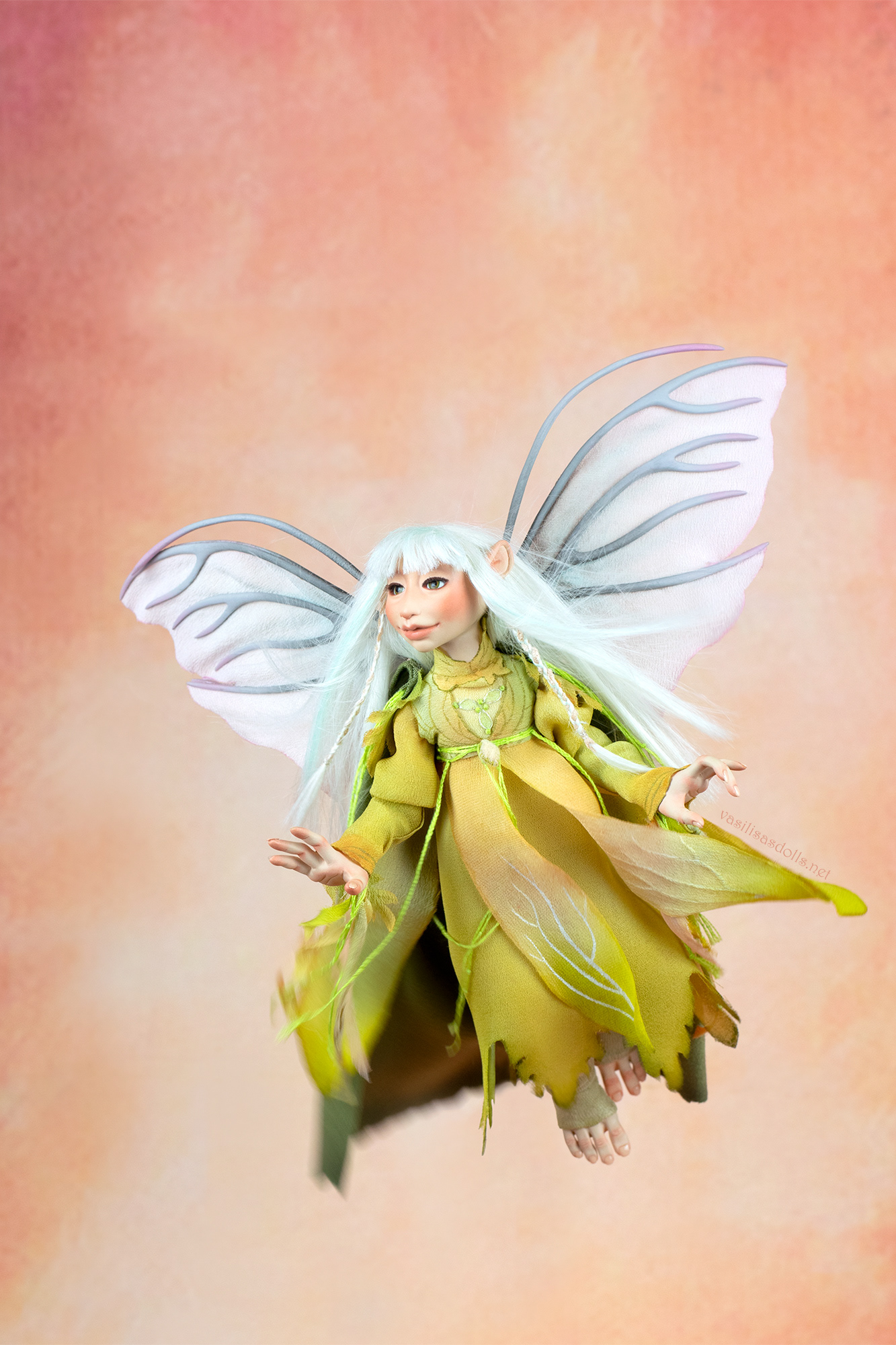 The Artdoll that appears in the photos is already
SOLD
.
✨I do offer Layaway payments plans through
PayPal
✨
Please send me an email to
lean@vasilisasdolls.net
for more info!
Description
Kira gelfling fan art doll is a posable ART DOLL.
Designed according to the world of Thra and hand made in full by Leandra Blackvelvet, at Vasilisa's Dolls.
Height:
She is 8,2 inches (21 cm) tall, 8,6 in (22cm) with wings
Sculpt:
I hand sculpted her head, hands and feet in Polymer clay, made a homemade silicone mold and cast a copy in resin by order. I hand paint each piece, with acrylics and pastels, covered with a varnish protection.
Body:
This sculpture is fully posable and can adopt a wide range of poses due to its inner armature made with a strong wire and wood sticks.
Soft Body is made in stuffed batting covered with fabric.
She also has a posable head.
Dress and adornments:
The clothes are hand dyed, with hand painted details, sewn and glued and are not removable. Her outfit is entirely handmade from silk, gauze and viscose fabrics, adornments on outfit are painted with watercolors.
The hair is high quality Alpaca doll hair, glued directly to the head and stylized with braids and knotted embroidery threads.
She has hand painted eyes covered with UV resin, and eyelashes.
I hand sculpt every single nail on her hands and feet with UV resin, paint them and give a varnish protection.
I hand sculpted the wings veins, made a homemade silicone mold and made very fine copies in resin dividing the veins in two, so that the veins could be seen on both sides of each wing. I hand painted them with acrylics and pastels, I hand dyed the silk wing and glued the veins on them.
The wings are removable.
Shipping:
Free shipping Worldwide!
Will be shipped by the best International service, as FeDex or one of your own preference.
Important Notes:
*Please note, that this doll is an art collectible, not a toy for children.
*Please do not let this Art doll get wet, as it is created from materials that could be damaged by contact with water!
*To change the pose, only bend at the elbows and knees, NEVER from the edges like the fingers of the hands, wrists or ankles.
*The doll can stand on her own, but you can use a stand if you prefer, but stand is not included.
*The doll is all made by hand
Please note the slight color variations that there may be between the product and their pictures displayed. As they depend on the inevitable displaying differences existed between various computer screens, mobile phones and / or tablets. And the light when the photographs has been taken.